Due to The City of Portland trademarking the Portland Oregon Sign and charging artists to use the sign, these are being discontinued. The Unipiper Print is sold out, but the there are a
few left of the Towers in my store >>
Collaborating with Portland's Iconic Mascot to Complete this Series - July 2018
In Portland, Oregon The Unipiper needs no introduction. The harrowing mascot of PDX's "Keep Portland Weird", this unicycling hero has been on my collaboration bucket list since I first heard of him six years ago. Donning a kilt and a Darth Vader mask, this fire-breathing bagpiper could show up at any moment on the streets of the Rose City and his presence is likely to stop you in your tracks. But his vision is about so much more than combustible horns. The Unipiper is Portland. His character embodies the eclectic, visionary mantra that creative residents hope to harness and spread. A Unipiper sighting is certain to spice up any day, but also reminds us to keep thinking outside of the box—keep being weird.  
What started as impromptu appearances around town quickly transformed into an internet phenomenon. Videos and pictures were quickly posted and shared and

The Unipiper's

 popularity grew in size. Now with 18k subscribers on YouTube, almost 28k followers on 

Instagram

, and large followings on Facebook and Twitter, the Unipiper's appearances continue to expand. A regular at events organized by the City of Portland, the Unipiper has made appearances on the news (local and network), The Gong Show, Jimmy Kimmel Live, and America's Got Talent. Most recently he played his bagpipes with the Portland Symphony Orchestra, dressed as Darth Vader.  
Being a lover and artist of all things Portland, a chance to create a Unipiper piece has been at the top of my wish list for years. However, the chance to photograph the Unipiper has always seemed like a pipe dream (har har). After all, I assumed that the Darth Vader mask meant that the character's identity was anonymous and Portland was dealing with a Banksy-esque performance artist. I imagined that I would just have to get lucky and catch him spontaneously unicycling on the streets. One day while working on some social media posts, I decided to look him up. Just to see. After a little research, I discovered with great and wonderful surprise that the Unipiper has an alter-ego! Introducing Brian Kidd, a cartographer, father, husband, businessman, and entrepreneur. We corresponded back and forth and arranged a photoshoot. (He made me feel better saying that many, many people think he is anonymous as well.) 
For the shoot, we met at Peninsula Park in North Portland and took some shots among the roses. I really didn't need anything too complicated, just a clear shot of him cycling in even light, with his fire breathing bagpipes. Check out below some action from the photoshoot, a little snippet of how I incorporated some previous images, and how I put the final piece together. (In a rapid time lapse manner!)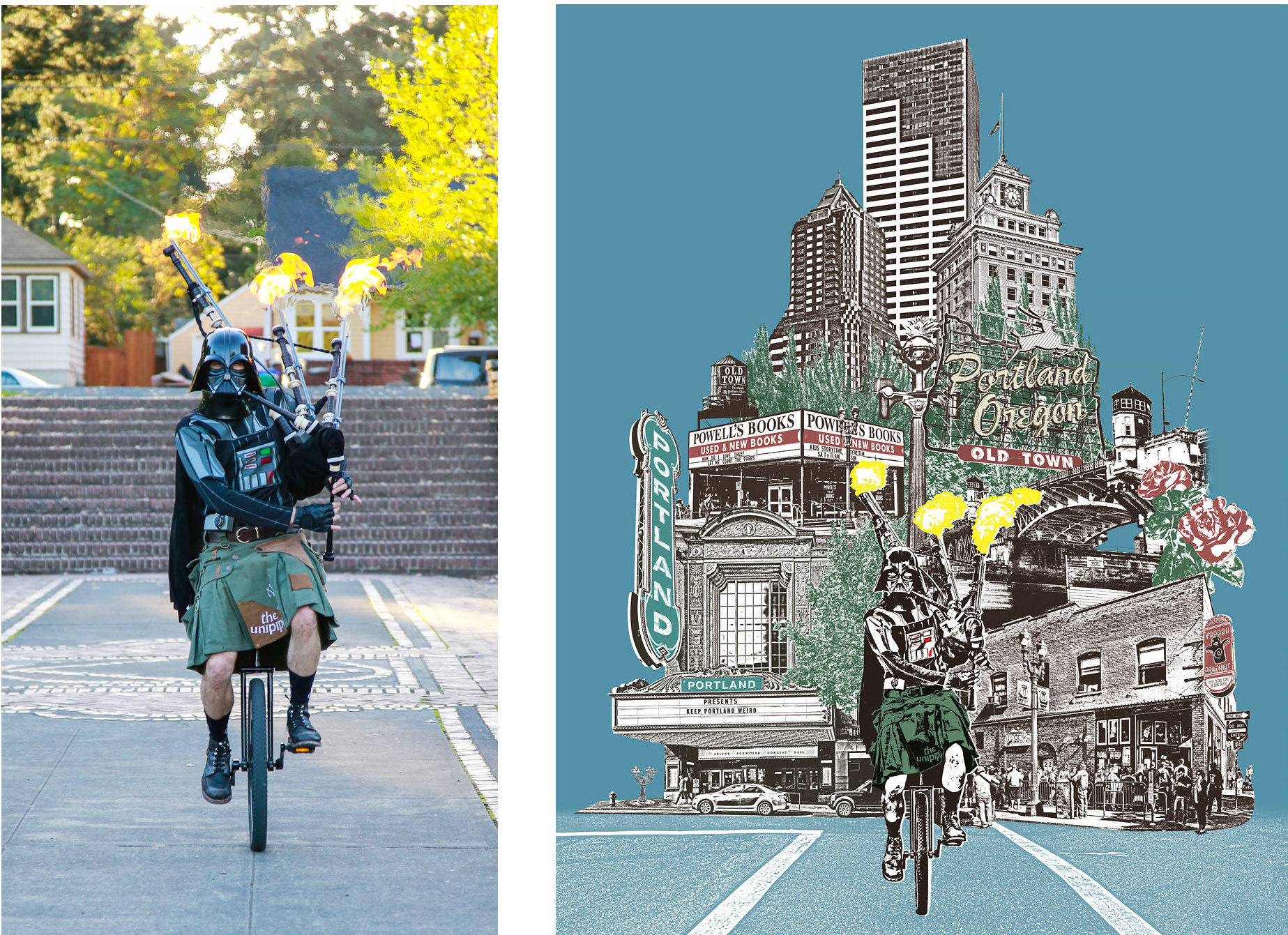 Here is the final photo I chose to use and it placed into the final art composition.